Technology MIM
The technology MIM (Metal Injection Moulding) is modern technological procedure for production of small metal parts. It is suitable for the applications that require accurate dimensions and cover at least annual production volume of 5,000 pcs. Now we can use a wide range of metal materials, from structural and stainless steels up to titanium or tungsten. The technology MIM is featured with five basic characteristics: high quality of final surfaces, material flexibility, low cost production, complexity of shapes and reproducibility.
Technological process MIM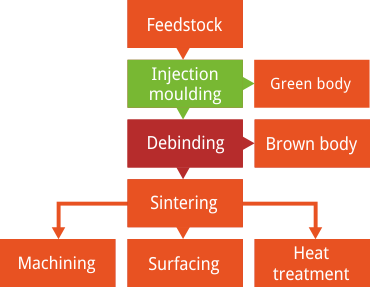 MIM is based on a combination of two routinely used procedures, technology of injection of thermoplastic materials and conventional powder metallurgy. In case of the conventional powder metallurgy, fine metal powder is pressed into moulds under high pressure and sintered at high temperatures (approx. 1300°C). Material is bonded just during sintering when grid diffusion occurs. The technology MIM uses injection of mixtures of metal powders and binders on injection presses that are almost the same as presses used for injection of thermoplastic materials. The input raw material for MIM consists of a mixture of binders and fine metal powders, called feedstock. Metal powder is produced by atomization of a metal and sizes of metal particles is from 5 to 20 µm. Binder amounts to 10 to 20% of the mixture weight. The binding component consists of a polymer and the stage of removal of the binder depends just on the binder type. Binder is connected with powder by pugging and mixing and the resulting product is granulated. Feedstock is mostly a commercially available product that is suitable for direct processing because it is delivered in form of granules. Now there is a wide range of metals on the market that can be processed using the technology MIM, such as ferrous alloys, nickel, alloyed steels, titanium, tungsten, etc. The most frequently used binders include polyethylenglycol (PEG) that shall be leached in water and then subject to thermal decomposition. Other binders include paraffines, also used after thermal decomposition and polyoxymethylen (POM) that shall be decomposed using a catalyst.
Processing of feedstock using injection is the same as injection of thermoplastic materials. In heated injection unit of the press the feedstock is plastificated by effects of friction and temperature between 150 and 200°C. Melted material is injected into a heated mould. Cooled products are removed from the mould and the brittle product, obtained in this production stage, is called "green body".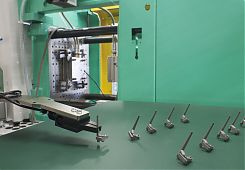 Handling MIM parts after molding
Injection presses for processing of metal powders require special geometry of the worm. In case of processing of hard metals it is necessary to pay attention to protection against wearing of the worm, worm tip, cylinder and backflow using a surface coating. Abrasion of material from the above mentioned components of the press should cause contamination of the feedstock. The mould material shall be heated uniformly. When designing a mould for MIM, it is important to keep in mind shrinkage of the product that varies up to 30% of the original volume of the part, depending on the binding system.
As mentioned in the beginning, the method of removal of the binder depends on the type of the binding system used. There are four basic methods how to remove binder: thermal decomposition of the binder, catalytic decomposition of the binder, gelation of the binder followed by its evaporation. In this production stage most of the binder is removed and the product is called "brown body".
The last stage of the process includes sintering, when secondary removing of binder is accomplished, connecting necks between metal particles are created and shrinkage of inner pores, caused by removing of the binder, occurs. Sintering is executed in controlled atmosphere (nitrogen, hydrogen, argon,…) and the sintering temperatures are at the melting point for the particular metal. In this process stage it is necessary to pay attention to putting the products into the furnace. In case the products are not underlaid correctly, this may cause their deformations and bending. Sintering is the most important stage in view of shrinkage, density and dimensional accuracy of the product.
Checks of quality of the product monitors the following parameters: surface and subsurface defects, accurate dimensions, hardness and density. The resulting products of the technology MIM are represented by parts of which density reaches 95 to 99% of their theoretical density. Such products have comparative mechanical and physical properties as outputs of usual metal-cutting machines. The products can further be subjected to heat treatment and surface finishing.
When it is appropriate to use MIM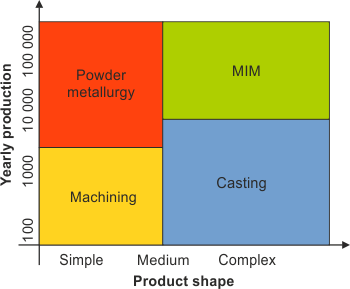 The technology MIM is suitable for production of components with maximum weight of 200g; achievable accuracy of this production process is ± 0.3%. Basic tolerances are defined in the standard ISO (DIN 7151). It is possible to produce components with complex shapes such as pressed components that consisted of several parts pressed together, when produced using conventional methods. Now we can produce them in one step. The products can include reinforcing ribs, blind holes, protrusions, spikes and inner and outer threads. There can also be produced components with different wall thickness on various parts of the component, whilst the minimum wall thickness is 0.2mm. In economical view, the technology MIM is ideal for orders of production volumes from 5,000 pcs per year. Prices of complex components, produced using the technology MIM, are incomparably lower than prices of components produced using conventional methods such as machining of casting.
Now we can find components produced using MIM, almost in all industrial branches, from electronics or automotive industry up to medicinal applications. Among the first there were produced components for military use such as some components of arms. As an example of use for ordinary life there can be mentioned metal cases for watch or even wach components.
Sources used:
GERMAN, Randall M and Animesh BOSE. Injection molding of metals and ceramics.Princeton,N.J.,U.S.A.: Metal Powder Industries Federation, c1997, 413 p. ISBN 18-789-5461-X.
PETZOLDT, Frank. Managing quality in the complete Metal Injection Moulding process chain. Powder Injection Moulding. 2014, vol. 8, no. 2, p. 37-45.
Catamold ® resulting product for injection of powders: processing – properties – use, Technical information, BASF Aktiengesellschaft, 2007.
Kinetics: Metal Injection Moulding [online]. 2014 [cit. 2014-07-04]. Available on: http://www.kinetics.com/
MIM Advantages. Indo-MIM [online]. [cit. 2014-07-04]. Available on: http://www.indo-mim.com/mimAdvantages.html